Lots Of Spots Bruce The Boss
Bruce started out nice when he was a young showdog:
BOB Puppy + BIS1 Puppy at the Euro Dog Show in Leeuwarden, Holland 2011
BOB Puppy at the Dutch Club Show 2011
Junior World Winner 2012 + BIG2 Junior at the World Dog Show 2012
German Junior Champion
Bruce is now 5 years old (Dec.2015). He is still a great showdog and loves to show. But also important: A very friendly and happy male.
He is an International champion and champion of Denmark, Sweden, Holland, Poland and Germany. He is most winning Dalmatian in Denmark in 2013, 2014 and 2015

Bruce is avaiable for approved bitches with fresh or frozen semen.
Date of birth: December 22nd 2010
BAER: ++, A-Hips, Full dentition, Tested lemon free
Pedigree: Press here
Bruce has sired two litters. One at Kennel Bell-A-Mir in Denmark where I now have his daughter Bell-A-Mir's Honolulu Hotshot (Molly) who is doing great in the showring too. Like her father she became Junior World Winner in Milan in 2015 and she is most winning Junior in Denmark in 2015.
And he sired a litter in Belgium at Kennel Of The Green Garden.
Scroll down and see some more photos of Bruce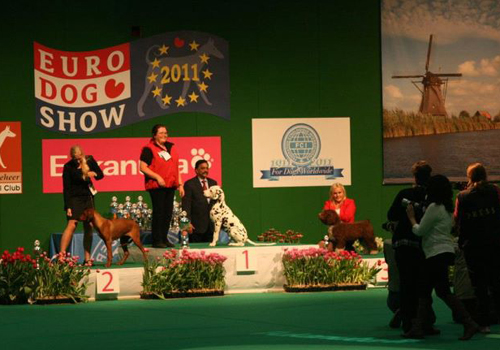 Bruce in the spotlight. BIS Puppy at the Euro Dog Show in Leeuwarden in Holland September 2011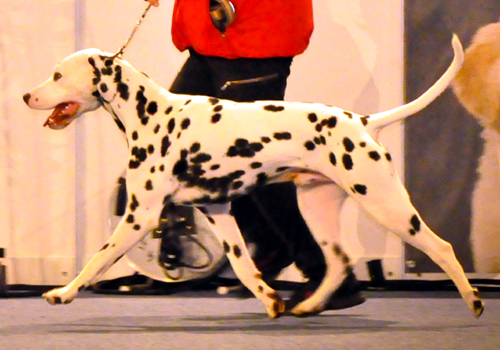 Boris in the Main Ring at the World Dog Show 2012 Salzburg, Austria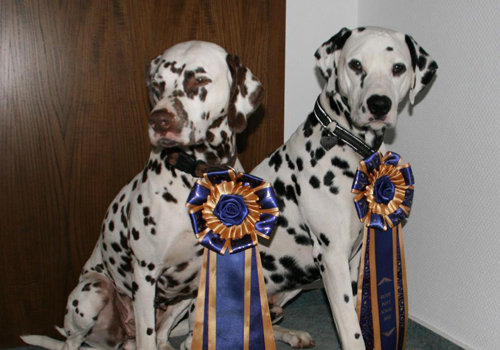 Bruce and his mother Oriana's Traceable Titania when he was German Junior Champion.
Titania won the Champion Class at the same show.